August 5, 2015 | Sandy Giardi
The Hammock
Air Lounge, available at Webster & Company, Boston Design Center, www.webstercompany.com or by order at Seasons Four, www.seasonsfour.com
The kids have long had sand shovels, tree houses, water balloons, walkie-talkies and umpteen other toys designed to make summer the best it can be. Thankfully, somewhere along the way, industry trendsetters decided that kids shouldn't have all the fun, and they've answered with fabulous products and diversions designed to make summer living even brighter for the rest of us, too. Here at BDG we're big on fun, so we created a roundup of items that are recreational and, er, relaxational—all of which, in our minds, make summer shine.
For many, the very notion of relaxation conjures an image of a hammock, tied to two sturdy trees, swaying in a gentle breeze. Tuuci, a luxury purveyor of parasols, cabanas and other shade platforms known for being as chic as they are durable, has created the Air Lounge, above. This hammock is the height of beauty and relaxation, and contracts and expands for an exceptionally smooth experience. Because it's free standing, you can position it where you'd like and dip your toes in the pool from an elegant perch.
Lights and Lanterns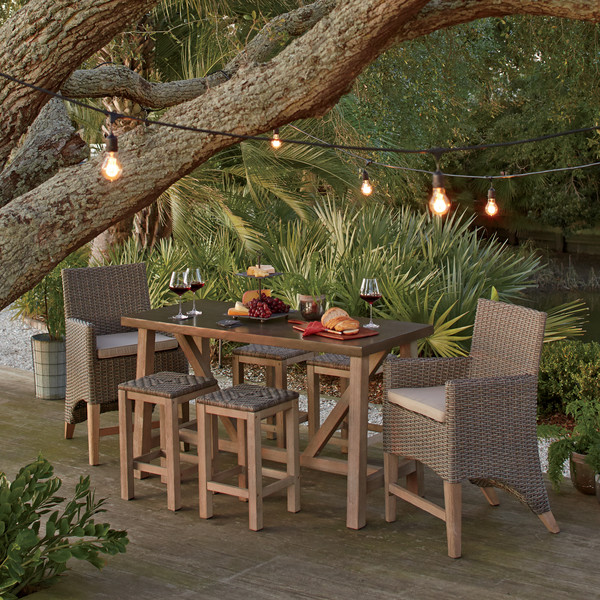 Vintage Edison String Lights, birchlane.com
If we had to pick an outdoor accessory that's instantly transformative, we'd have to cite strung lights and glowing lanterns. Illumination brings magic to a terrace or soiree, creating a festive mood. Use string lights (we're partial to Birch Lane's Vintage Edison String Lights) lavishly or modestly to modify the effect—even a few strands create a special setting. Vibrant floating lanterns, like those pictured below by Grandin Road, bring sparkle to garden and poolside parties, as do an assortment of hurricane lanterns aglow on the tabletop.
Floating lanterns, grandinroad.com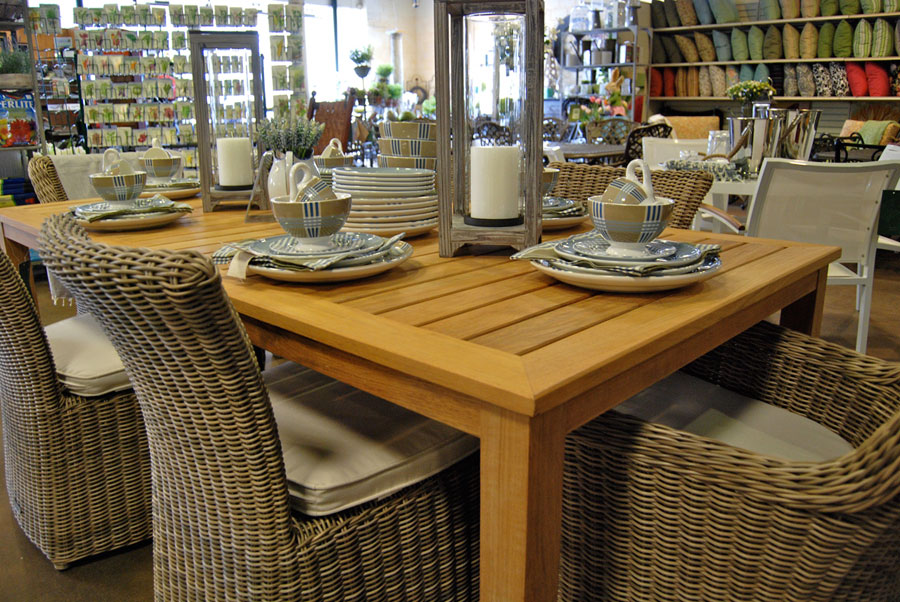 Seasons Four, www.seasonsfour.com
Picnic Pleasers
Whether headed out for a sail, to the beach or to a grassy hilltop for a concert, we've scouted some functional products that enhance impromptu alfresco meals. After seeing The Beach Glass wine glass stuck into the sand on a Cape Cod beach (sadly, it's rumored to be out of stock until November), we got to thinking about other inspired picnicking ideas. Govino glasses quickly fit the bill. Coined as "the go anywhere" glass, these elegant vessels are shatterproof (Opa!) recyclable and dishwasher safe. They also maximize a beverage's aromatics by shape and design just like fine crystal. Choose from cocktail/wine glasses, flutes for bubbles, beer glasses for pilsners or decanters for full bottles.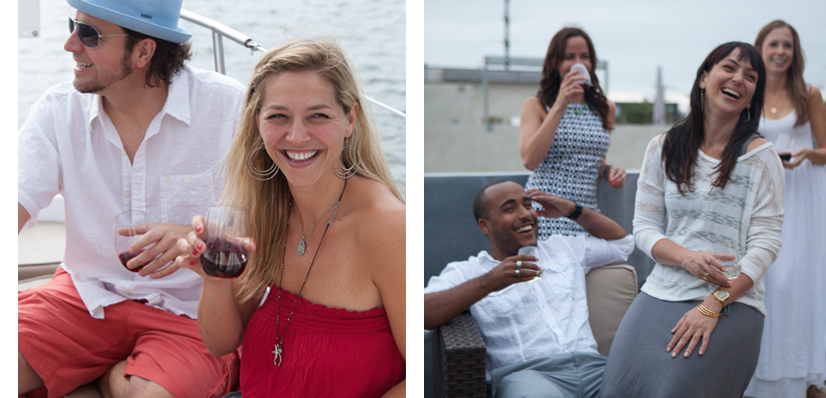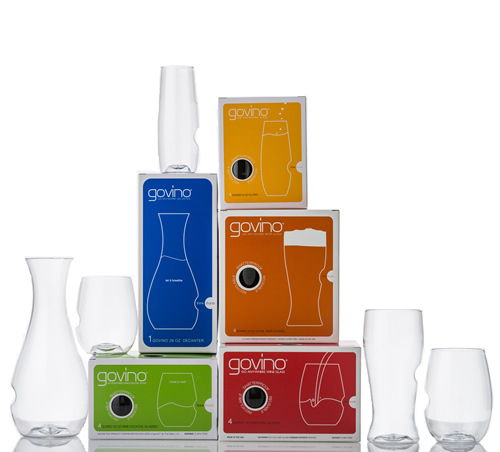 Govinowine.com; available at select wine and home stores like Abodeon in Cambridge, www.abodeon.com
Wine Enthusiast also offers great ideas for outdoorsy oenophiles like Steady Sticks Outdoor Wine Holders. This smart device keeps the stems of your vino level even on uneven terrain. Sink them into the sand or the grass and your summery Rioja or robust cab will remain perfectly balanced, leaving your hands free to tuck into the other delights in your picnic basket.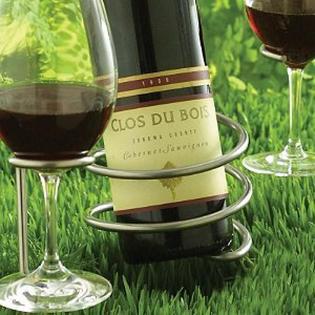 Steady Sticks Outdoor Glass Holder, wineenthusiast.com
Party Picks
There are also some pretty ingenious ideas on the home entertaining front. Anthony Catalfano Home has wonderful offerings for the tabletop and bar—zip code dish towels, anyone? However, we were particularly smitten with their handcrafted, stone wine dispensers by a local artist. Guests won't mind helping themselves to a glass from these artful and functional spigots, freeing up the host to mingle and enjoy the party. Cheers to that!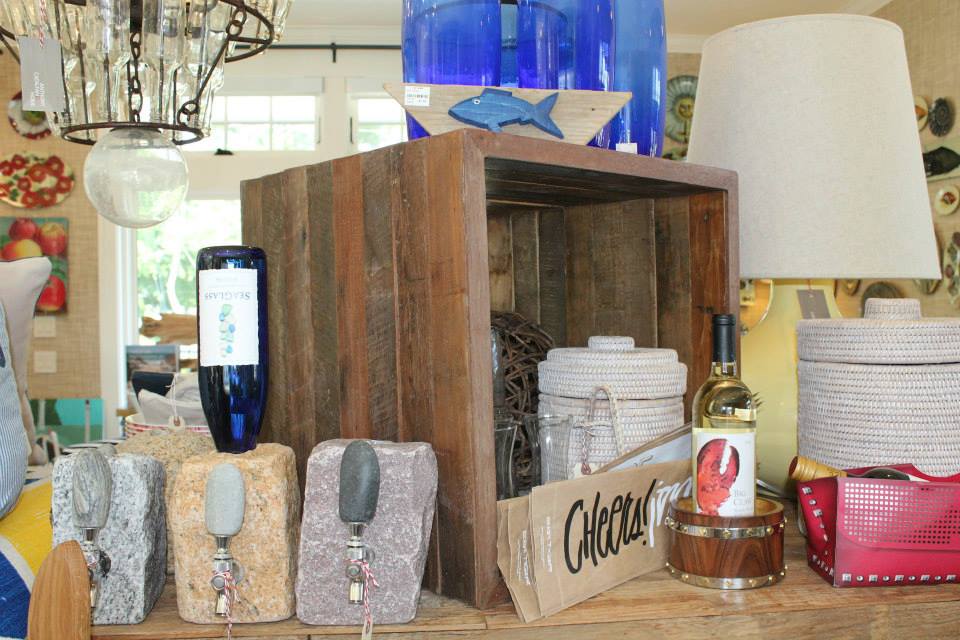 Anthony Catalfano Home, www.anthonycatalfanohome.com
If chilled appetizers or fresh seafood are staples on your summertime menu, Frontgate has just the serveware. Their ice-laden Glacier Tower Two-Tier Server keeps those oysters on the half-shelf and other raw bar delicacies cold, crisp and pristine, even on a steamy day. Plus, the stainless steel double tray's stacked design is a space saver on your buffet or table.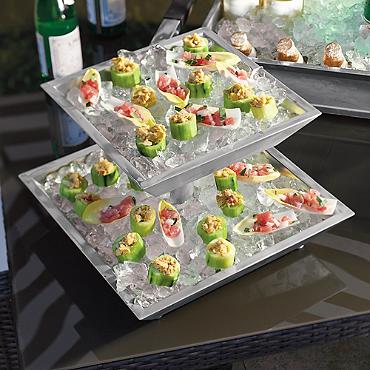 Glacier Tower Two-Tier Server, www.frontgate.com
Fire Pits
Now that we've covered ice, let's consider its polar opposite: fire. We loved being 'round the campfire as kids and some things never change. The folks at Chatham Outdoors can confirm that others are like-minded, as sales of their fire pits are red-hot this season. Brown Jordan makes gorgeous fire pits that are a welcome addition to any terrace. We find the Cloud, pictured below, to be particularly soul warming, and it is clean burning and eco-friendly to boot. Those looking for the glow of the fire combined with a table element will adore the Equinox style that combines the allure of the fire with a coffee table design.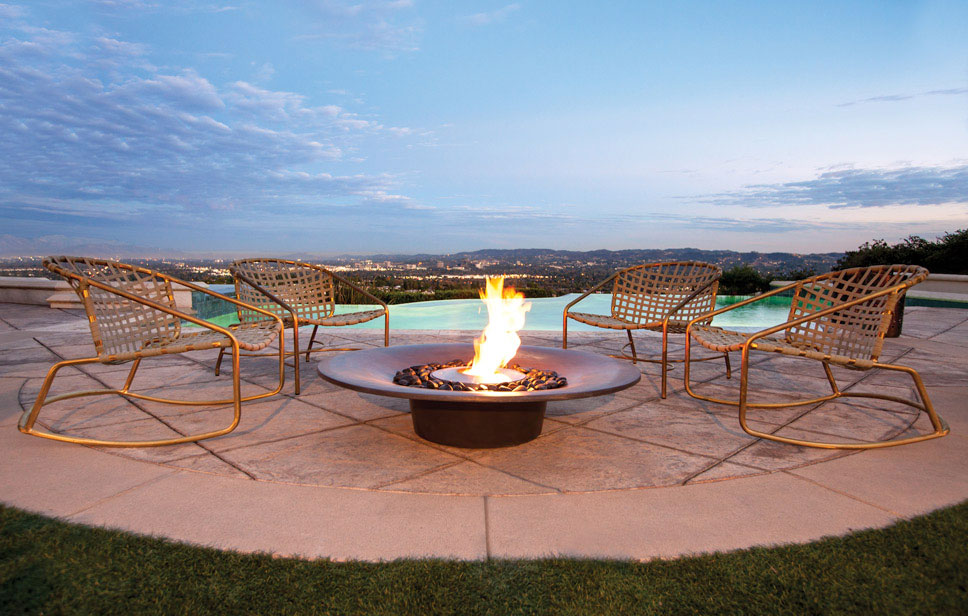 Cloud by Brown Jordan, available at Chatham Outdoors (as is the bioethanol fuel it requires), www.chathamoutdoors.com and by request at Seasons Four, www.seasonsfour.com.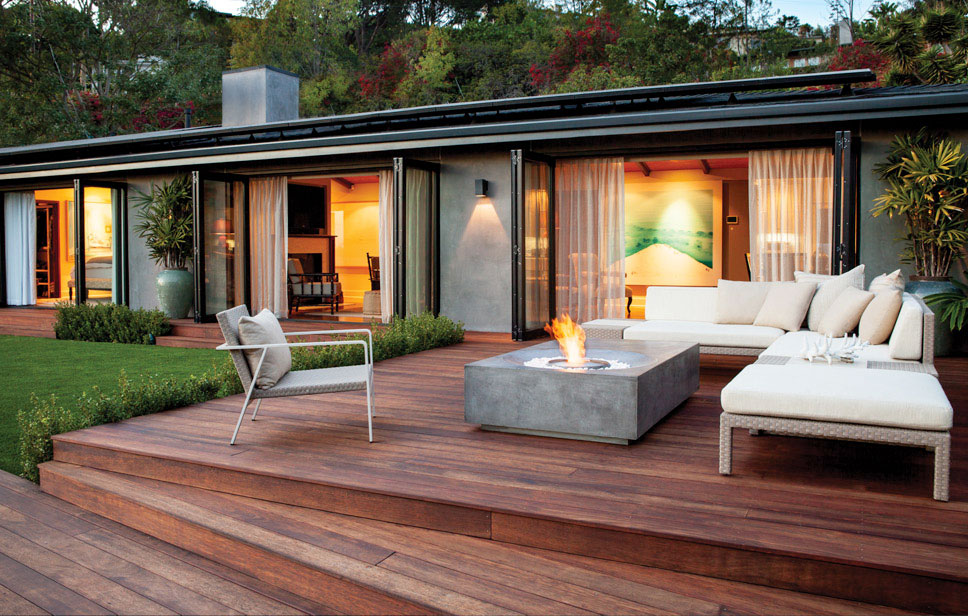 Equinox by Brown Jordan, available at Chatham Outdoors, (as is the bioethanol fuel it requires), www.chathamoutdoors.com and by request at Seasons Four, www.seasonsfour.com.
Of course, you'll want to outfit your new toy properly, so you'll need some serious skewers to bring on the roasted marshmallows and s'mores! Williams-Sonoma has just the tool to the keep the flames out of reach in the Telescoping Skewer. Its sturdy handle is cool to the touch, plus it's retractable, so it's easy to transport. Consider trying new takes on the classic s'mores recipe and add in luscious caramel, peanut butter, sliced bananas or chocolate wafers to the mix. After all, adults are entitled to bend the rules.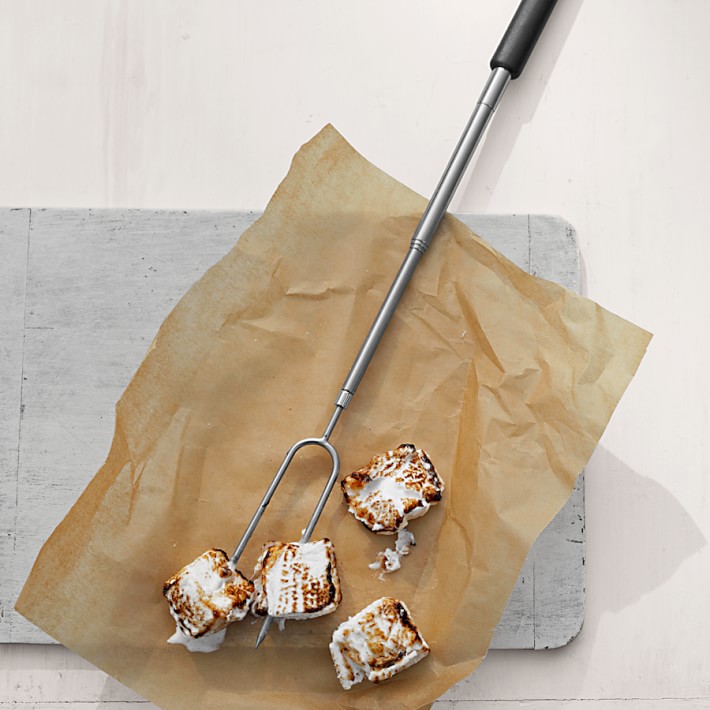 Telescoping Skewer, Willams-Sonoma.com
Lastly, invest in a summer-weight throw to wrap around you when the stars rise and the temps lower. Artefact Home carries beautiful linen throws that are as a casual as they are cozy. Have one hearthside and on hand for each guest and your friends will soon become repeat visitors for good times that extend, dare we say it, through the fall.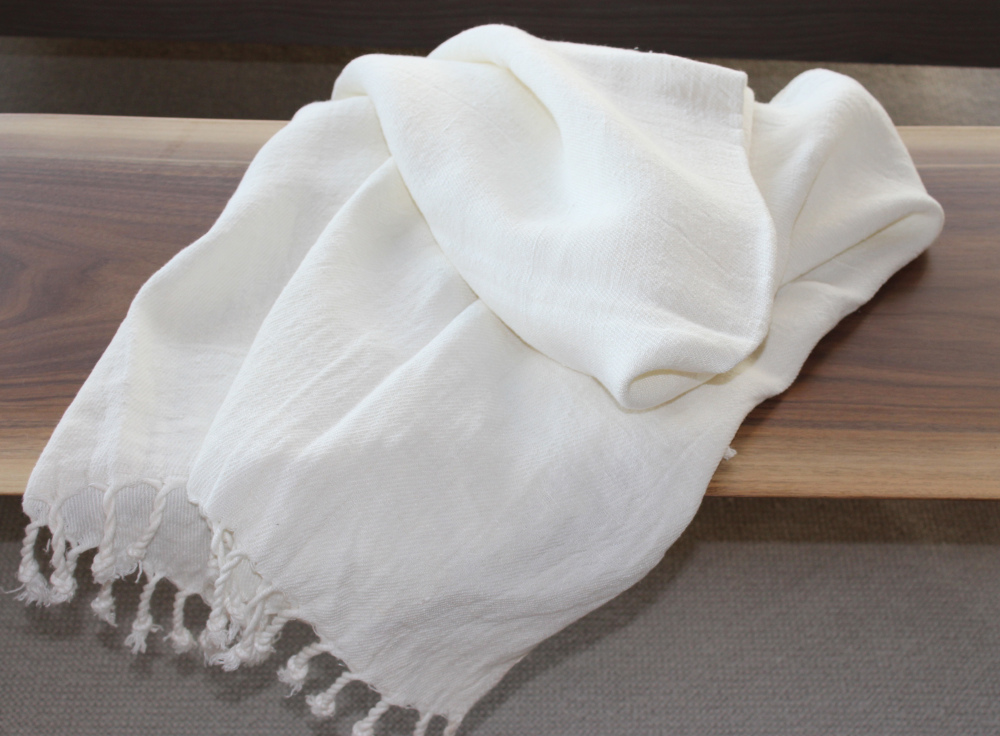 Linen throw available at Artefact Home, www.artefacthome.com