May 4, 2016 | carly stewart
(Elizabeth Benedict of Elizabeth Home Décor & Design with her chair "Charlotte's Web")
The fourth annual international, award-winning IFDA-NE event benefits local charity.
The New England Chapter of the International Furnishings and Design Association (IFDA-NE) showcases local designers' unique, up-cycled chair designs. The significant, redesigned chairs are to be auctioned with proceeds to benefit The Women's Institute for Housing and Economic Development (WIHED), a national award-winning affordable housing development organization.
'Take A Seat' allows all types of creatives in the furnishing and design industry including architects, builders, craftsmen, designers and students the opportunity to incorporate their skills and display their resourceful expertise to better the community. Artists are given the freedom to express their own style and interests to invent and create one-of-a-kind chairs. The meticulously crafted chairs will then be taken and displayed on a traveling exhibit throughout the Greater Boston area until their auctioning date at the 'Take A Seat' Gala – June 1st.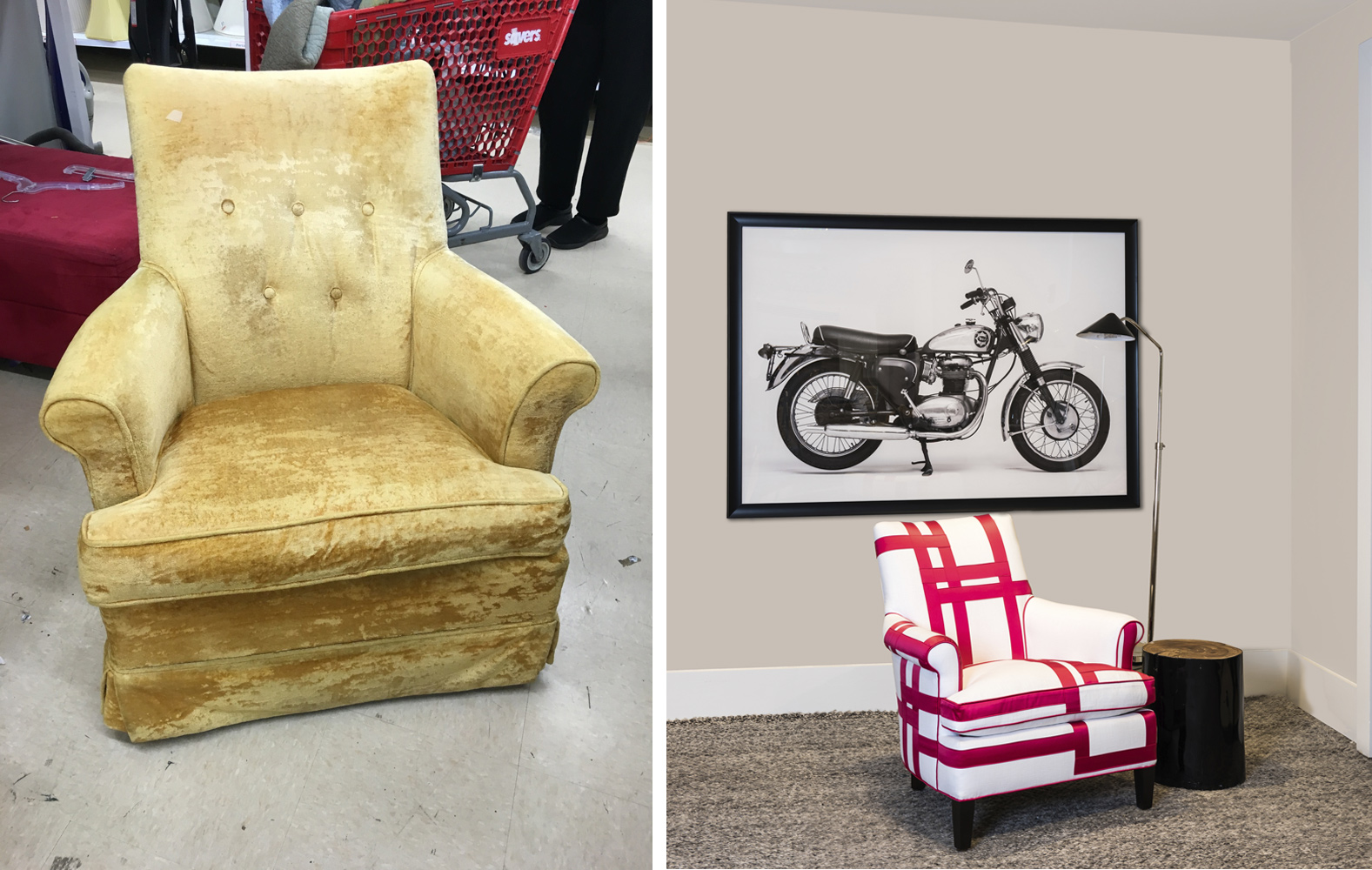 (Before & After) "Charlotte's Web" by Elizabeth Home Décor & Design
My chair is an up cycled, mid-century upholstery piece found at Savers for $12.99, complete with a swivel rocker function. When thinking about the concept, I knew that I wanted to pair a petite, feminine frame with soft palette, with original thoughts of the design to be similar to a potholder. When I picked the field fabric as a natural, pure-white, linen and paired it with a hot-pink satin, it felt more organic; hence, "Charlotte's Web."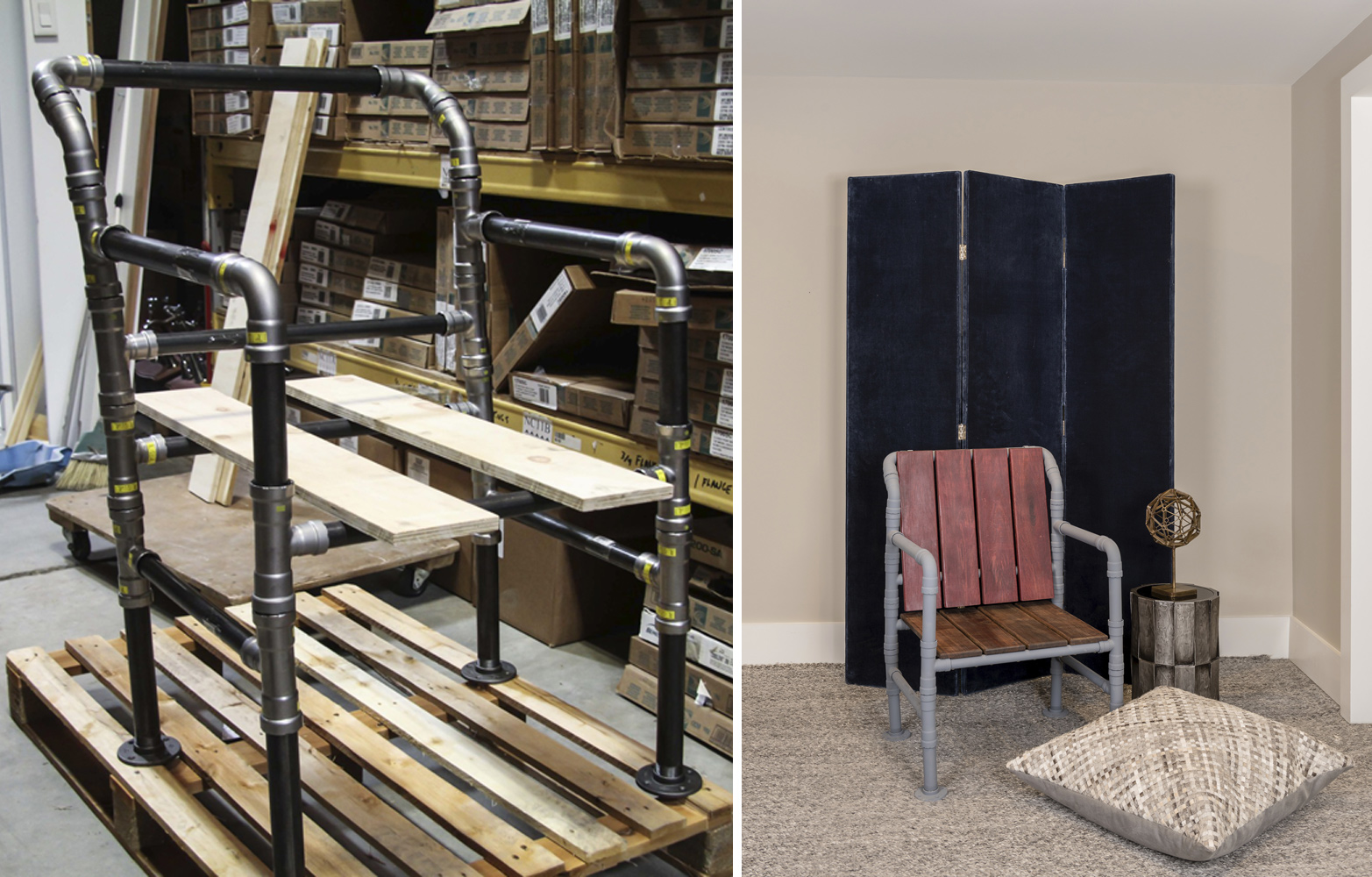 (Before & After) "Pipe Dream" by Designer Bath and Salem Plumbing Supply and S+H Construction
This one-of-a-kind chair, entitled 'Pipe Dream,' is designed by the innovative minds of S+H Construction, Salem Plumbing supply and Puleo Plumbing and Heating. The chair base is comprised of a variety of plumbing parts from the Designer Bath and Salem Plumbing Supply warehouse, and finished off with a wood back and seat. Don't let the industrial look fool you, the oversized chair is quite comfortable and can complement décor from traditional to contemporary.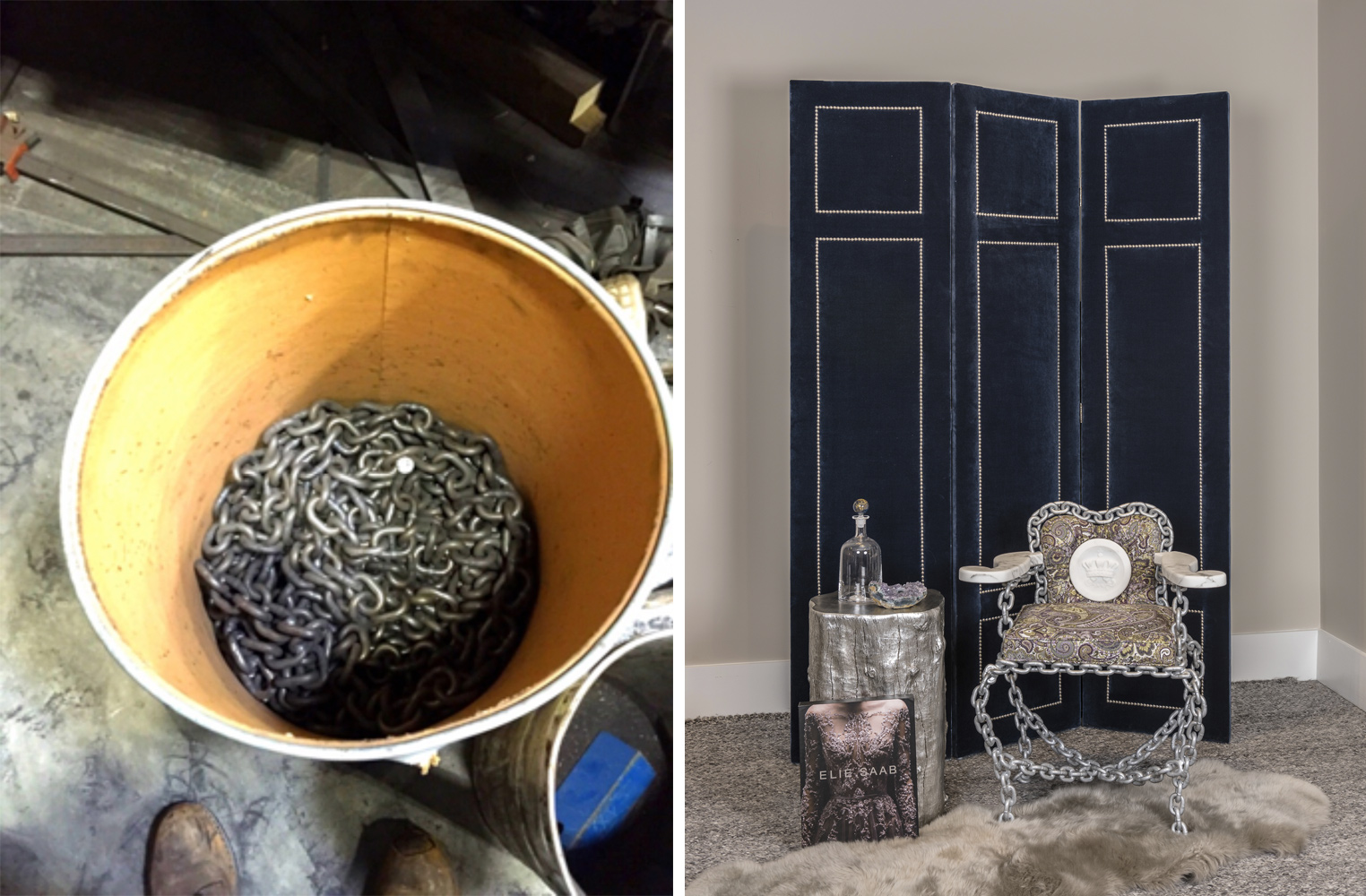 (Before & After) "Chain Reaction" by Cumar and Santini Brothers Iron Works
The name, Chain Reaction, is a nod to the power of mentoring. Much like every piece of salvaged iron chain was repurposed and fused together to form the foundation of this chair, every person has a background that can help shape lives and build something positive, powerful, and strong. This hand crafted sculptural chained chair features stunning engraved marble and is finished with a cheery paisley fabric that celebrates symphonic colors and whimsical patterns.
The design concept was the brain child of Dawn Carroll, stone specialist at Cumar Marble and Granite, New England's premiere couture stone fabricator, and Chris Santini of Santini Brothers Iron Works who's superb work supports many of Boston's bridges and buildings. His intricate artwork can now be found in beautiful interior designs


(Before & After) "Enchanted Garden" by F.H. Perry Builder and Kolman Artisan Glass
Our garden bench harkens back to the time of British Aristocracy when people knew how to relish a beautiful summer afternoon. During a stroll in the garden, one might happen upon a bench hidden amongst vivid colors and pungent fragrances; a place to sit with a friend or to simply sit in solitude for just a breath. Through the innovative techniques developed by artist Connie Kolman, this once common garden bench was transformed into a tapestry of color. With applications of papers from the world over combined with paints, resins, and custom glues this bench is itself an Enchanted Garden.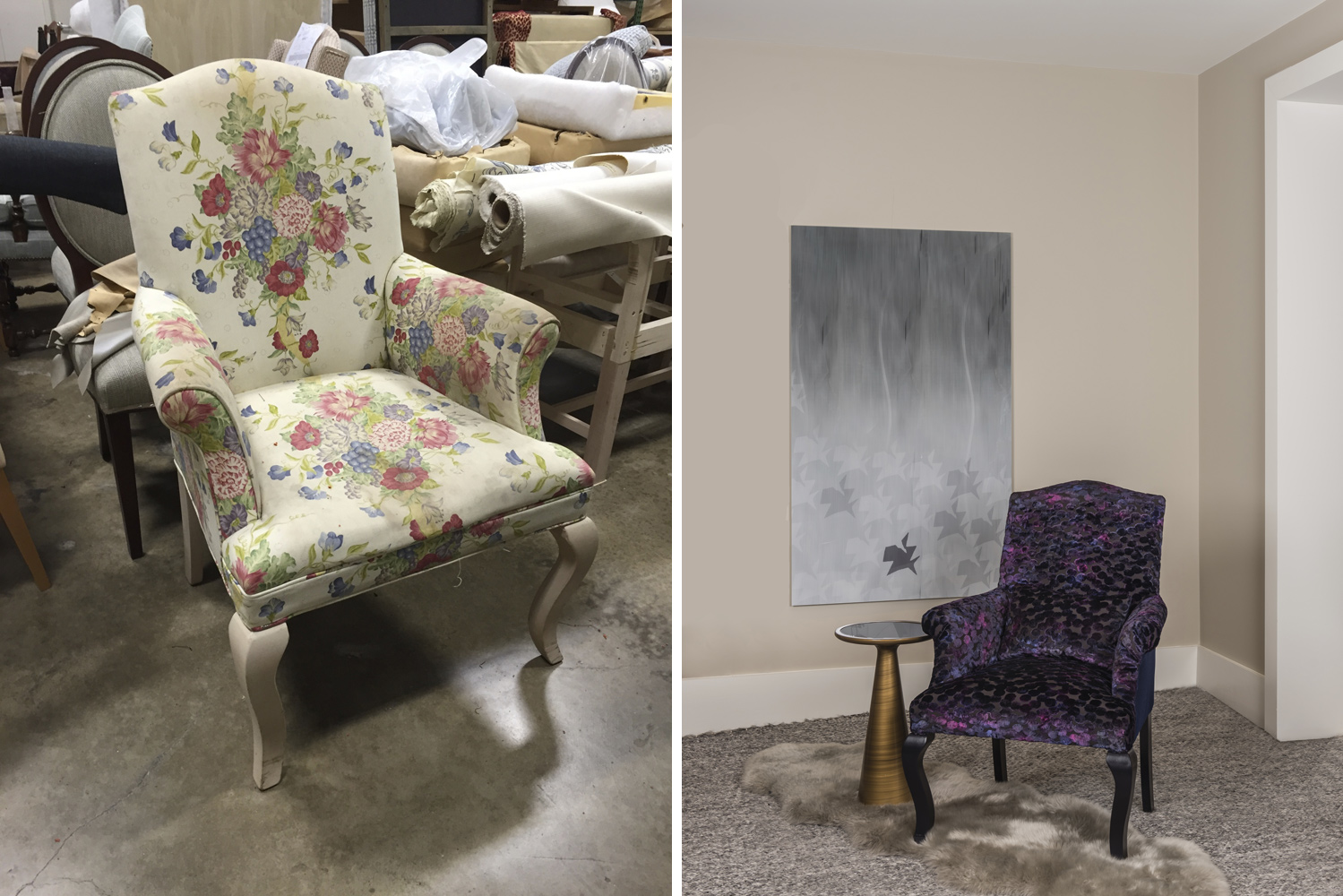 (Before & After) "Purple Reign" by Kristen Rivoli Interior Design and Audio Video Design
This poor chair has been dying to shed her outdated skin and reveal the beautiful inner lady. Yes, she's been reliable, sturdy, supportive and sweet, but all she's ever wanted to do is put on a sexy cocktail dress and shine. This deep purple chair wants to reign in your home as part of a grouping or alone in the corner, just being adored for her inner and outer sophistication and curves. This high-back Queen Anne chair is covered in Lulu from Romo Fabric. It is the perfect armchair to sit in to listen to Prince or watch Game of Thrones on your 55" TV with surround sound from Audio Video Design.
Other featured designers include:
Woodmeister: "The Whitcomb Chair"
Faverau Design: "Velvet Revolver"
Herrick & White and Classic Hassocks: "Sox Rocks"
Renee Rucci Design, LLC and The Leading Edge Drapery: "Birds of a Feather"
Mina Fife: "The Dragosaur"
Masterpiece Woodworkers: "1458"
Vivian Robins Design: "Playa La Ropa"
LW Interiors: "Casual Wing"
C&S Wholesale Grocers, Inc.: "Business Casual"
KDZ Designs: "I Love Paris"
Carriere's Upholstery: "Fireside Chair"
This Way Home: "Telephone Bench"
Balanced Design: "Peacock Stripe"
"This event is an excellent way to help promote local craftsmen while also garnering attention for a great cause. Last year's event raised over $16,000 for the Women's Institute for Housing and Economic Development and this year we hope to top it. In fact, the 2015 event was so successful we were awarded the 2015 Gold PRISM Award for Best Marketing Event or Series," said Karen Dzendolet, President of IFDA-NE. "We encourage New England designers to submit their work and for residents to visit the exhibits and show support for these hardworking professionals."
"The Women's Institute is very grateful for our partnership with IFDA NE and its dedicated members. The Community Service committee's generosity and initiative is making real improvements in the lives of residents in Grinnell Mansion in New Bedford, Ma. We are excited for the continued efforts of IFDA throughout the year and years to come," Betsy Crum, WIHED Executive Director.
Mitchell Gold + Bob Williams hosted the Private Press Preview at on May 3
Kick-Off Cocktail Party: May 3 – May 7
Traveling Exhibition: May 3 – May 31
May 10: Boston Design Center – Galley West sponsored by Woodmeister Master Builders
May 17: The Symphony of Lighting Showroom, Dedham, MA
May 24: Design Group 47, Peabody, MA 01960
Gala & Auction: June 1, 2016 at the deCordova Museum, 51 Sandy Pond Road, Lincoln, MA
For additional information on 'Take A Seat', please visit www.takeaseat.ifdane.com