December 11, 2015 | Sandy Giardi
When it comes to creating spectacular homes for the holidays, less is more.
New Englanders everywhere are hauling out the holly, hanging the lights and untangling the tinsel. But decorating homes for holidays isn't as easy as it might seem—after all, most homeowners are attempting to blend nostalgia, glamour, and, particularly when there are children in the mix, magic. We got to thinking, how do the pros go about creating their sparkling holiday designs? There's an art to it, to be sure; here's how some of the Boston area's most distinguished interior designers beautify their own homes and those of others….
Making an Entrance
The front door and doorstep take center stage during the holidays as they immediately set the tone for the environs within. The entryway gives a visual welcome and its design treatment signals to all who approach that they are entering a warm, festive realm. Here, you'll want to keep the, er, exuberance in check and opt for simple but impactful adornments.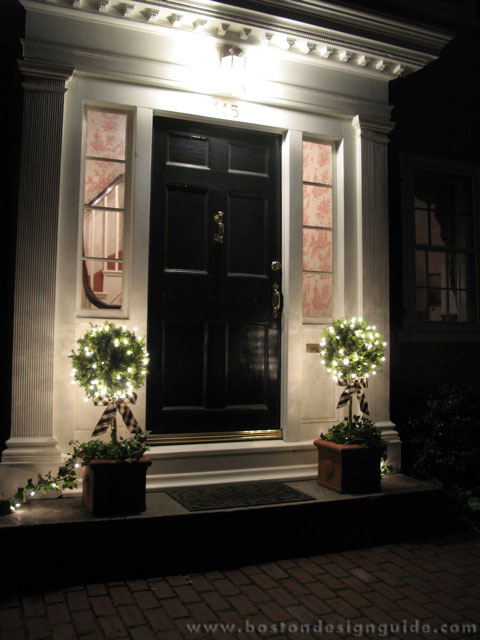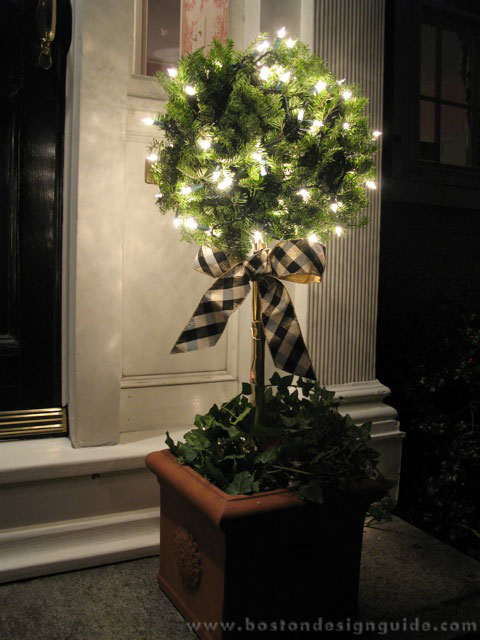 John Kelsey of Wilson Kelsey Design suggests illuminating small topiaries for homes with smaller front stoops and overhead lighting. The interior designer used the idea on his friend's home as well as his own. We find the sculptural effect to be dramatic and dazzling—almost an inverted kissing ball, but elevated.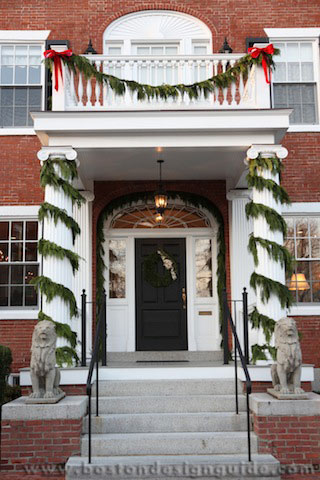 The wearing of the green never fails to disappoint, and it definitely didn't when John Kelsey and Sally Wilson festooned this portal for a Salem Holiday Home tour. Here, garlands of evergreen frame the arch of the doorway, wrap the columns and embrace the balcony for a look that works beautifully with the architecture of this handsome home.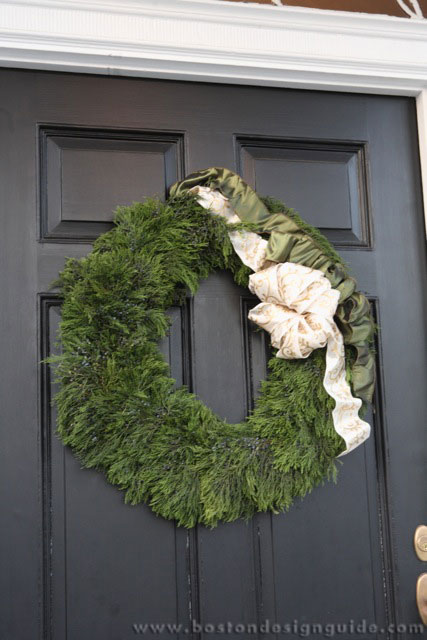 Of course, "You can never go wrong with a classic, simple and elegant wreath," offers Kelsey, as in the above image. However, if a variation on a theme is in order, try the inspired half basket design, below. Here, Kelsey sliced an inexpensive basket in half and Wilson filled it with an evergreen arrangement of varying texture and heights. The addition of small shocks of white and red make it all the more delightful.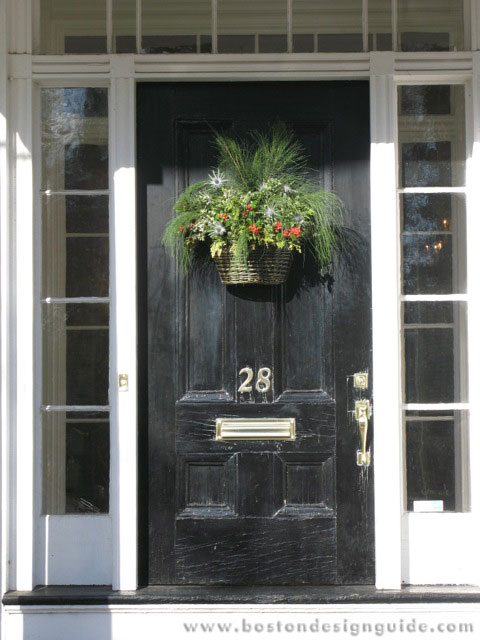 O Christmas Tree!
For many, the Christmas tree is the centerpiece of holiday decorating. And that, opines Danielle McClure of Catherine & McClure Interiors, is as it should be. In her own home, the designer singles out the tree and one mantle for her décor and urges others not to "overdo it."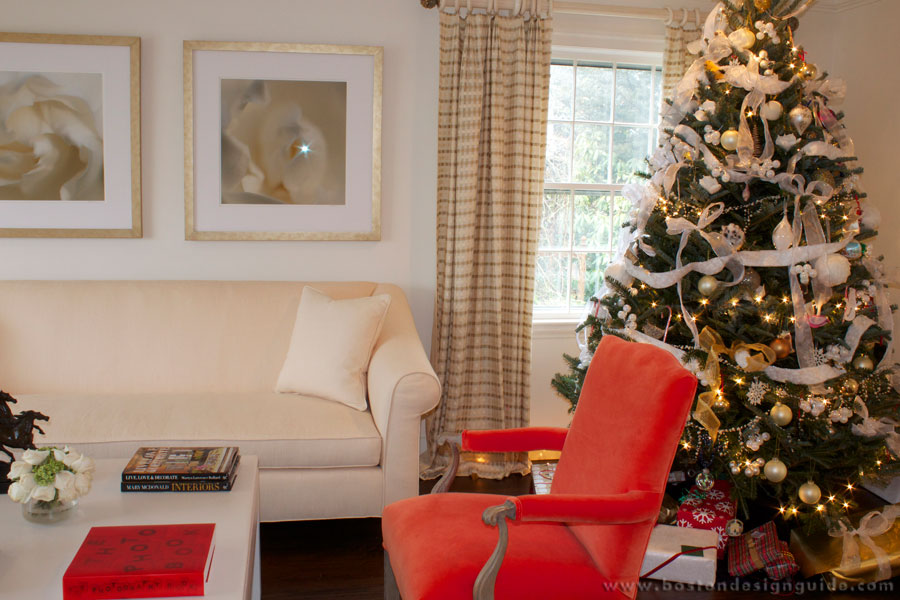 McClure considers the setting of the tree and the room as a whole when decorating her tree. If it were up to her, her evergreen would be "white, white, white!" she admits. However, since her children want color on the tree, her family has struck a compromise, choosing a mostly white color scheme with pops of colorful ornaments.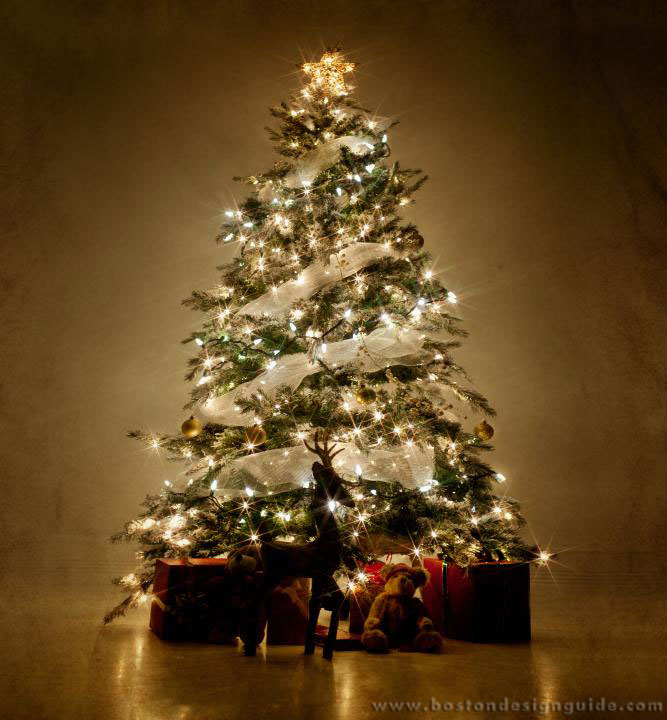 She recommends "bringing softness" to the tree by weaving a pretty ribbon throughout the branches. She decks her boughs with a faux fur ribbon; the addition is a luxe counterpoint to the pine needles and also serves to fill in the tree so that it appears even more lush and lovely.
Magnificent Mantels
Mantels always command attention as a focal point in a room, but can particularly shine during the holiday season. For its mantelscapes, Wilson Kelsey Design aims "to complement the architecture of a room, rather than overwhelm," says Kelsey. "Too much is too much. Your eye gets dizzy trying to focus it and take it all in." Avoid a merry mishmash and go instead for a natural look with evergreen clippings, fallen branches, pinecones and dry leaves from winter walks.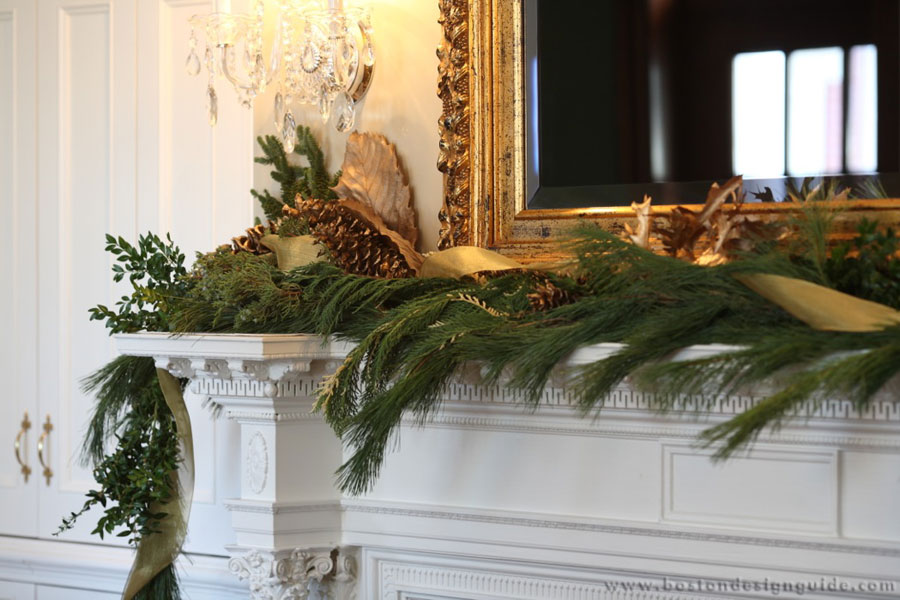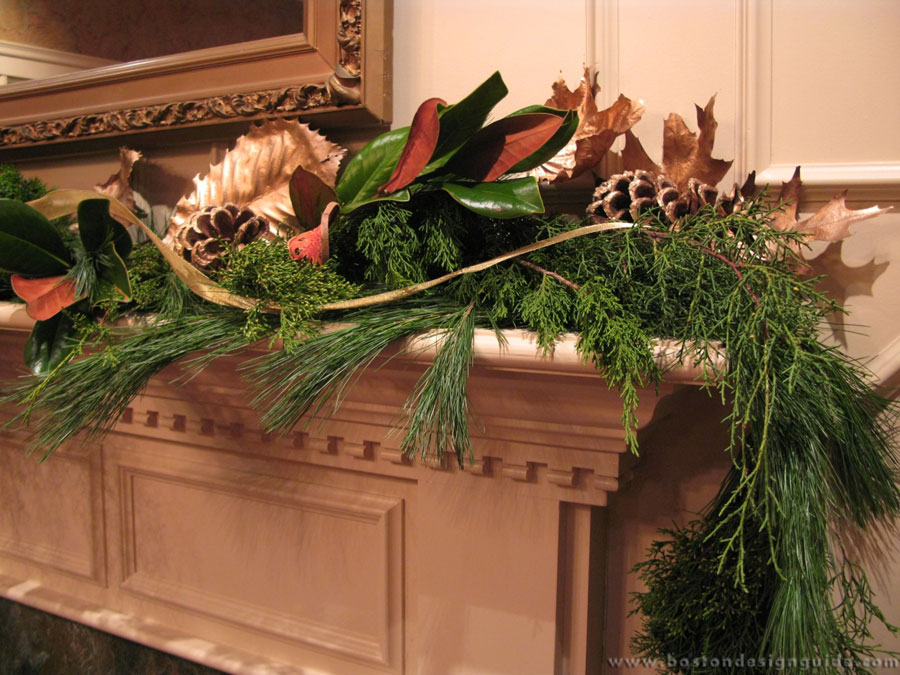 As homeowners spend more time inside in December, incorporating natural features and plantings on the mantel brings a refreshing vitality to the hearth. In Wilson Kelsey Design's mantelscape, above, the firm adds a stylistic signature by threading a gold ribbon throughout the arrangement that is then echoed by gilded dry leaves and pinecones that catch the light. Below, a small floral arrangement— giftwrapped for the holidays—is simple yet striking against creamy white millwork and crystal chandeliers.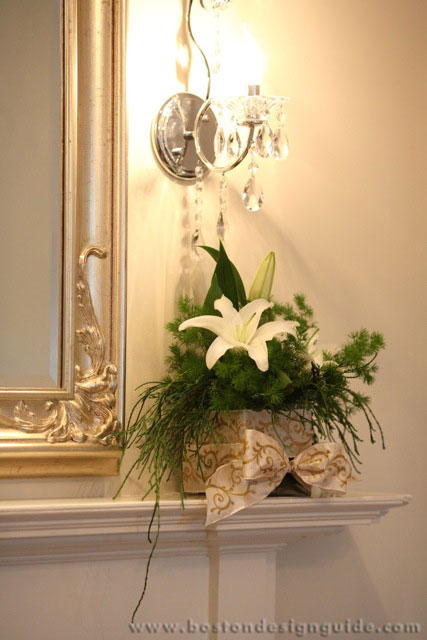 "The subtle beauty of winter white decorations" also captivates McClure. Her company uses neutrals generously in its interior designs throughout the year and upholds that same aesthetic during the holidays. On her mantel, she loves the look of creamy white stockings against the painted brick. Hung with care and adorned with a bit of silver and gold and more pearl, the scene has a fresh-as-the driven-snow sensibility that is equal parts elegance (for her) and wonder (for the kids!).