June 30, 2015 | Melanie Perillo
Grilled Cilantro-Lime Corn on the Cob
Recipe: Combine 1 stick butter, 1 cup cilantro leaves, lemon juice, 2-3 cloves garlic, 1 teaspoon paprika, 1/2 teaspoon chili powder, 1/4 teaspoon cayenne, & salt/pepper in food processor. Leave a single layer of leaves on the corn and soak 20 minutes prior to grilling. Then remove remaining leaves and brush corn liberally with marinade from food processor. Preheat grill to medium/hot and then grill corn for 12-15 minutes, turning until all sides are nicely charred. Garnish with parmesan, lime zest, and remaining marinade to taste. (Recipe & photo from abachelorandhisgrill.com)
The sun is shining, the music is turned up, the grill is sizzling with something delicious... but what's cooking? Check out this catchy mix of Fourth of July foods! Some take a twist on American barbeque favorites and others keep it classic, but both are sure to please a hungry summer crowd.
Grilled Watermelon Salad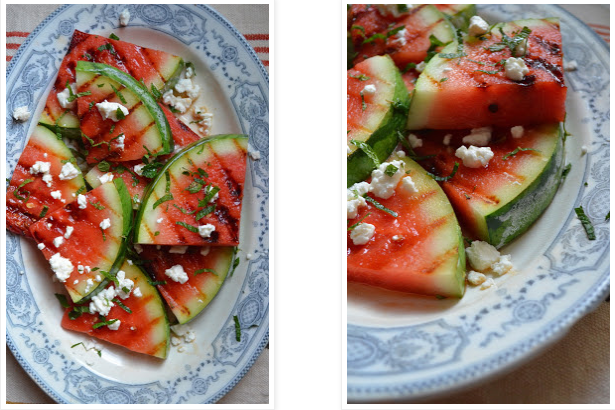 Preheat your grill or grill pan over medium-high heat and place the watermelon slices in a single layer. Allow to cook for 3 minutes and then check for char lines.  When char lines appear, flip and cook on the other side for 3 minutes. Then, remove the watermelon from the grill pan and place on a large platter.  Crumble feta over the watermelon and sprinkle with minced mint. Add lime juice from 1 lime and drizzle with 1 tablespoon honey. (Recipe & photo from amourfoud blog)
Chicken, Tomato and Bread Cubes with Lemon-Oregano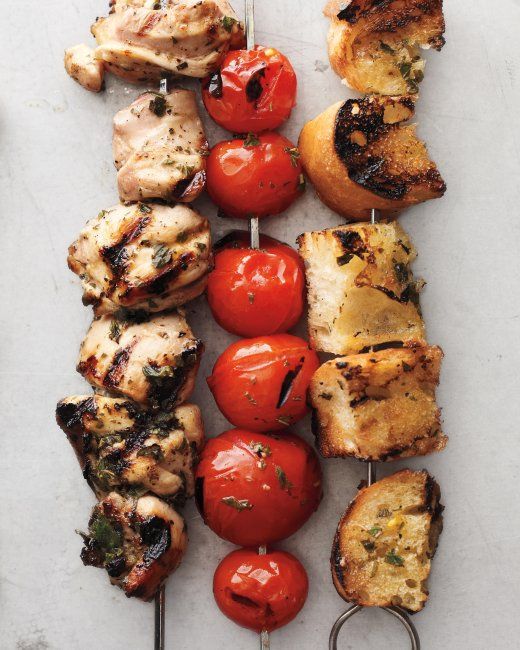 Photo by Andrew Purcell
Recipe: Combine oil, lemon juice, oregano, and 1 teaspoon salt and 1/2 teaspoon pepper. Set aside and refrigerate about 1/4 cup of marinade. Transfer rest of marinade to a zip-top bag, add chicken and toss to coat. Refrigerate 8 hours (or overnight). Then, heat a grill or grill pan to medium-high. Clean and lightly oil hot grill. Thread some skewers with chicken, some with tomatoes, and some with bread. Season with salt and pepper. Grill bread skewers for about 3 minutes, tomato skewers for 3 to 6 minutes, and chicken skewers for 12 to 15 minutes, turning all skewers frequently and brushing with reserved marinade. (Recipe from marthastewart.com)
Guacamole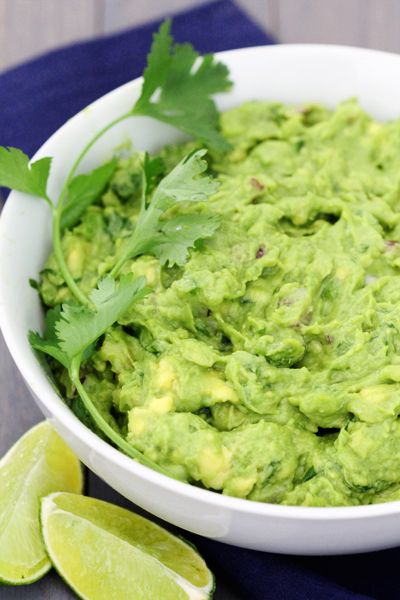 Recipe: Mash together 3 ripe peeled and pitted avocados, 1 jalapeno, 1/2 finely chopped red onion, 1 Tbsp. lime juice, 1/4 cup cilantro leaves, 1/2 tsp. salt, and dash of cumin with a fork until well-mixed.  (If adding tomatoes, stir them in 1 roma tomato at the very end.)  Serve immediately, or cover the bowl with plastic wrap (so that the plastic is touching the entire top layer of the guacamole) and refrigerate. (Recipe & photo from gimmesomeoven.com)
Every birthday bash needs a fun dessert menu, and what better birthday to celebrate with sweets than the United States' 239th?! This year, be sure to try these American-inspired treats with your family and friends.
Independence Icebox Cake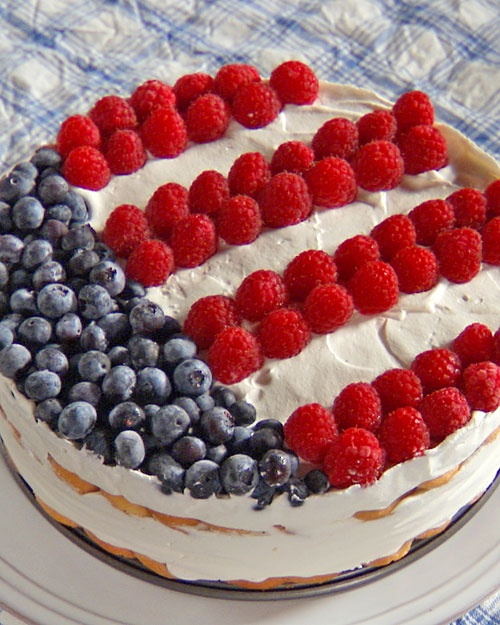 Line the sides of a 9"x3" springform pan with parchment paper strips and lay half of the 12 oz box of vanilla wafers on the bottom of the pan in overlapping concentric circles. Then, puree 1 pound strawberries in a food processor. In a large bowl or stand mixer, whisk 3 cups heavy cream and 1/3 cup sugar to soft peaks. Remove 2/3 of the whipped cream from the bowl. Fold the strawberry puree into the remaining 1/3 whipped cream. Put 1 cup plain whipped cream into a large resealable plastic bag. Snip off one corner of the bag. Pipe the cream over the wafers, along the sides of the pan, to create a one-inch dam. Pour the strawberry whipped cream into the center of the pan and spread the edges to the dam. Place the remaining cookies over the cream. Top the cookies with the remaining cream, spread to the edges of the pan, and smooth to level. Place 1 cup blueberries evenly over one third of the cream. Place 1 cup raspberries in four or five stripes to create a flag pattern. Chill at least 8 hours or uovernight. Remove the sides of the springform pan and the parchment. Cut cake into wedges and serve. (Recipe & photo from marthastewart.com)
Article written by Caroline McNamara