Store to Undergo Major
Expansion/Renovation and Increase in Size from 4,500 Square Feet to Over 10,000
Square Feet and Become a Flagship Location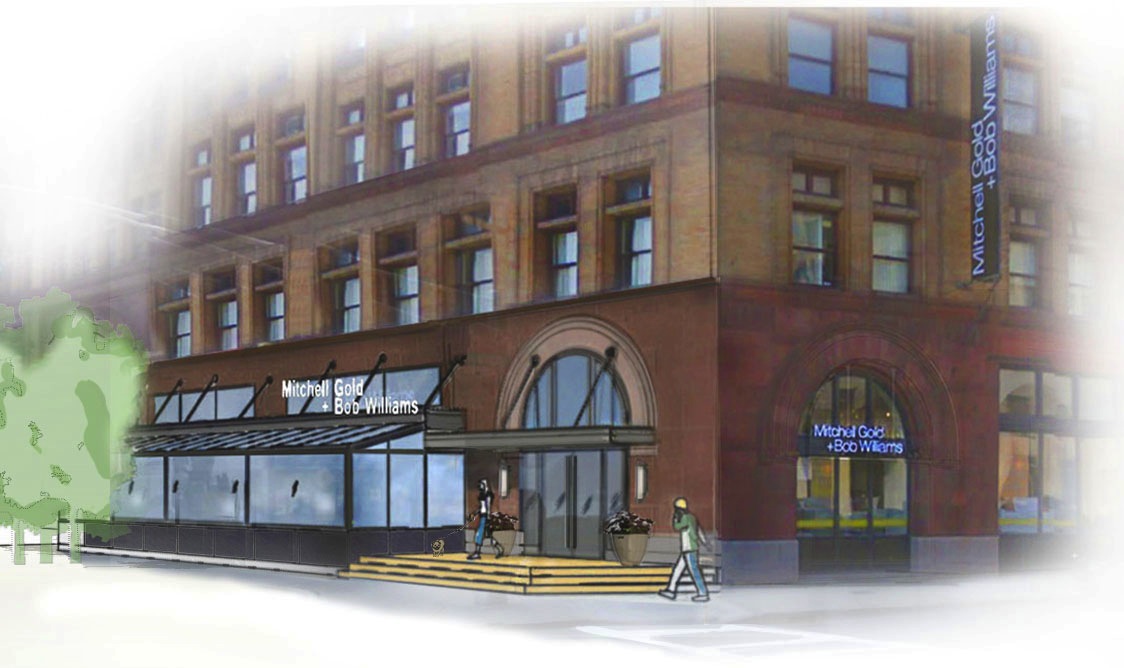 Exterior
rendering of the newly-expanded and renovated Mitchell Gold + Bob Williams Flagship
Signature Store in Boston, MA
Mitchell Gold, chair-man and co-founder of Mitchell Gold + Bob Williams, the renowned
home furnishings lifestyle brand, announced that their licensed Signature Store
in Boston, MA will undergo a major expansion/renovation and increase in size
from 4,500 square feet to over 10,000 square feet by early fall when they take
over the lower level of their current retail space which was the former Revolution Fitness gym. 
Mitchell Gold + Bob Williams, which is located at 142 Berkeley Street at Columbus in Boston's
Back Bay and opened eight years ago, will now be housed on two levels with a
center staircase connecting the two floors. 
A grand re-opening charity benefit celebration is planned for Thursday, October 25th
"We are really looking forward to expanding our existing presence in the Boston
market to over twice the original size,� said Gold. "Boston has a sophisticated,
well-informed consumer who we believe is hungry for more of our style sense and
product offerings.  This is something we have wanted to do for a long time.  We're
excited about presenting our brand there in a much bigger, more impactful way.�
The store will feature the company's award-winning products, quintessentially
American style and uncompromising customer service.
The newly-expanded Boston store, will showcase the company's signature store design, including
soft white walls and floors, bright modular lighting and personally created
furniture settings by Bob and Mitchell – showing customers serene ways to
integrate eclectic styles of furniture. The Mitchell Gold + Bob Williams design
philosophy is based on making comfort the priority for look and feel, and
mixing unexpected pieces to give each setting a unique, modern twist.  
The store's renovated exterior, which will include a new front entrance and a
modern re-do of the store's signature glass greenhouse (during the renovation,
the greenhouse will feature a banner running across it saying "We're Growing To
Great Lengths,�) along with the brand new lower level and updated interior in
the original space, has been designed by New York-based architect James
Bartholomew, in collaboration with Bob Williams. The goal was to create a clean
and modern backdrop for the company's upholstered and slipcovered furniture,
case goods (industry speak for armoires, beds, dining tables, chests, coffee
tables, etageres etc.), lighting, area rugs, accessories, a bedding collection
by Matouk and expansive art collection. The store will continue to be
dog-friendly, with treats readily available to four-legged friends (and the
company even sells dog beds in fabrics to coordinate with your sofas!).
"Having this expansive space to showcase the majority of our product line will let
consumers really experience our way of living,� added Bob Williams, president
of design and co-founder.  "We know buying furniture can be an anxiety-ridden purchase,
and we want everyone who walks through those doors to feel welcome, comfortable
and very well taken care of.�
The company has always championed "immediate gratification.� The store will be in
stock on most merchandise on the selling floor and also offer customers and the
design trade the ability to custom-order pieces delivered in just six short
weeks in most situations. The Boston expansion is the latest in a growing
number of Signature Stores for the Mitchell Gold + Bob Williams brand. Other Signature
Stores are in dynamic markets across the country including SoHo in New York
City, Chicago, Atlanta, Los Angeles, Dallas, Portland, Washington, DC,
Nashville, and Puerto Rico, with international locations in Mexico City and
Toronto. Additional freestanding Signature Store locations are planned for
2013.
142 Berkeley Street (at Columbus)
Boston, MA  02116                                
617.266.0075
Store Hours:
Monday thru Friday 10 am – 8 pm
Saturday 10 am – 6 pm
Sunday 11 am – 6 pm