A showcase of spectacular New England kitchen designs, a live cooking demonstration and formal dinner by Emmy-nominated Chef Ming Tsai of public television's "Simply Ming," and the announcement of the three New England regional winners of the Sub-Zero and Wolf Kitchen Design Contest (KDC) highlighted "An Evening to Remember" at Clarke, New England's Official Sub-Zero & Wolf Showroom and Test Kitchen in Milford, Massachusetts, on May 7, 2015.
Celebrating Sub-Zero and Wolf's 70th Anniversary Year, recently named Clarke President, Sean Clarke, opened the festivities with a warm welcome to the audience of 100 recognized design professionals and their guests. This invitation-only event celebrated all New England designers who entered the 2013-2014 Sub-Zero & Wolf KDC to compete for more than $250,000 in cash and prizes.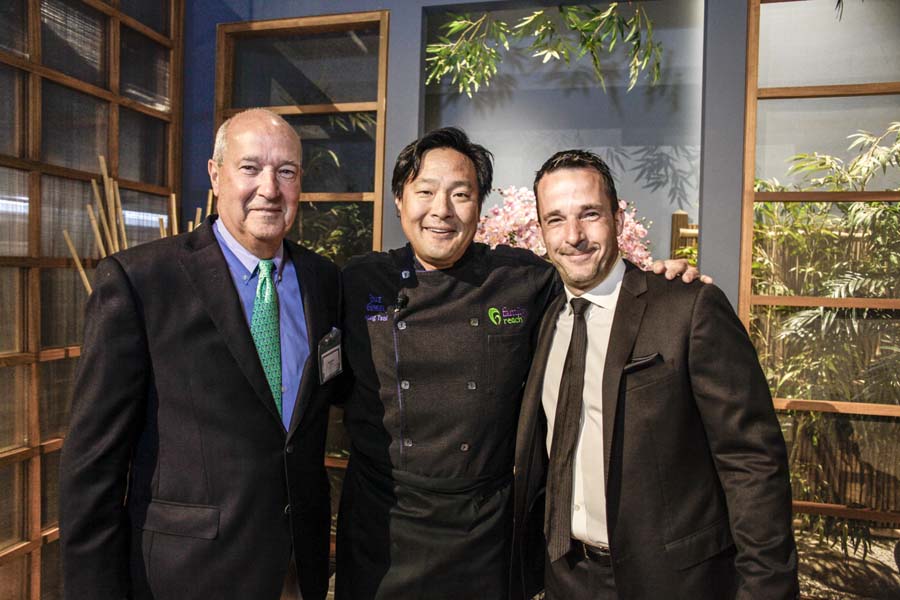 Tom Clarke (left) with Chef Ming Tsai and Clarke President Sean Clarke.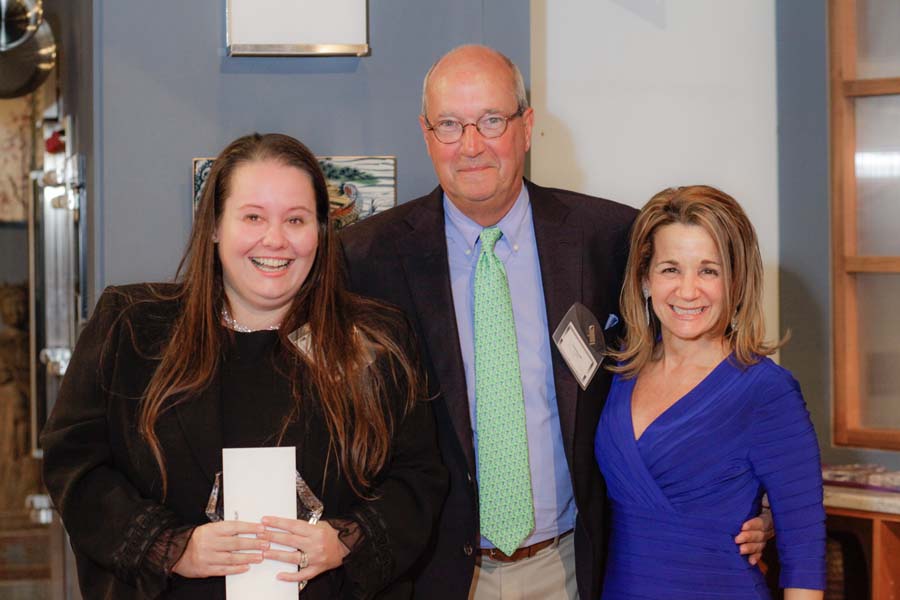 Heather Kahler (left) with Clarke CEO Tom Clarke and Debra Burke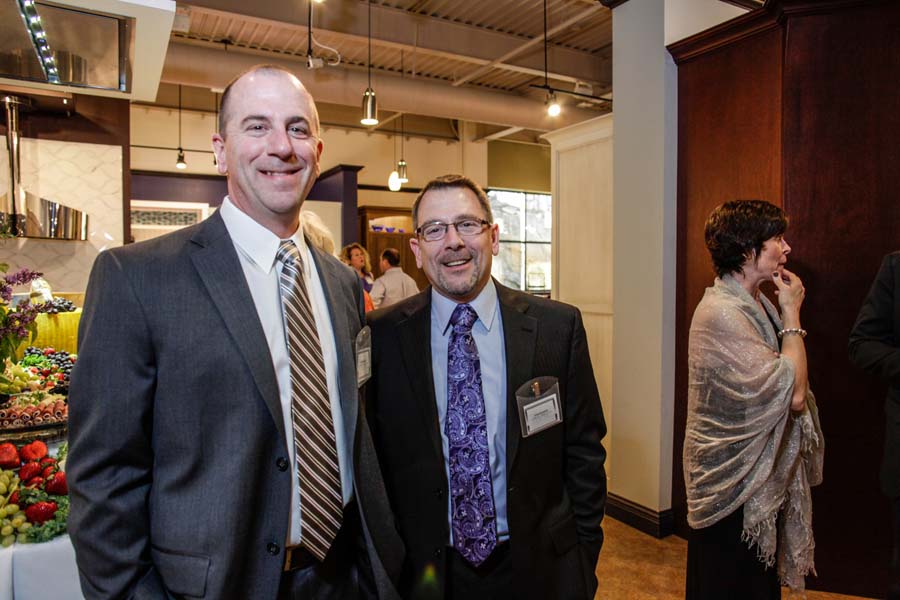 Lee Kimball owners Bruce (left) and Gregg Johnson at Clarke's Evening to Remember
Chef Ming Tsai, crowned by the James Beard Foundation as "Best Chef in the Northeast" when he opened his first restaurant Blue Ginger, dazzled the crowd with his signature East-West approach to food design and his engaging stories about everything from how to prepare shrimp toast like his mother taught him to the sustainability of seafood in our oceans.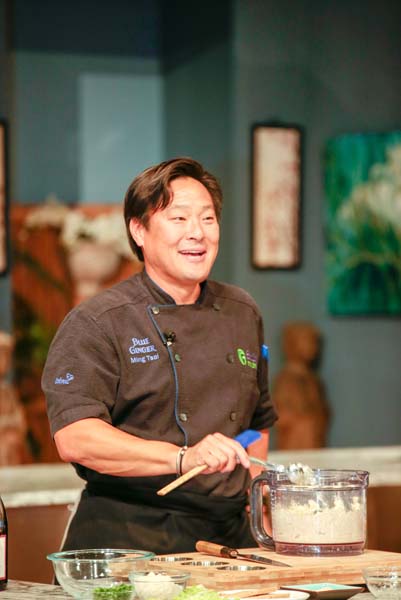 Chef Ming Tsai entertaining guests with a spirited culinary demonstration
Following dinner, Clarke Director of Business Development Joe Tanguay announced the three Sub-Zero & Wolf KDC New England Regional Winners, who will go onto compete in the Sub-Zero and Wolf Best of the Best Winners' Summit and Gala in Scottsdale, Arizona where the global winners will be announced.
• Heather Kahler of Downsview Kitchens of Boston (below)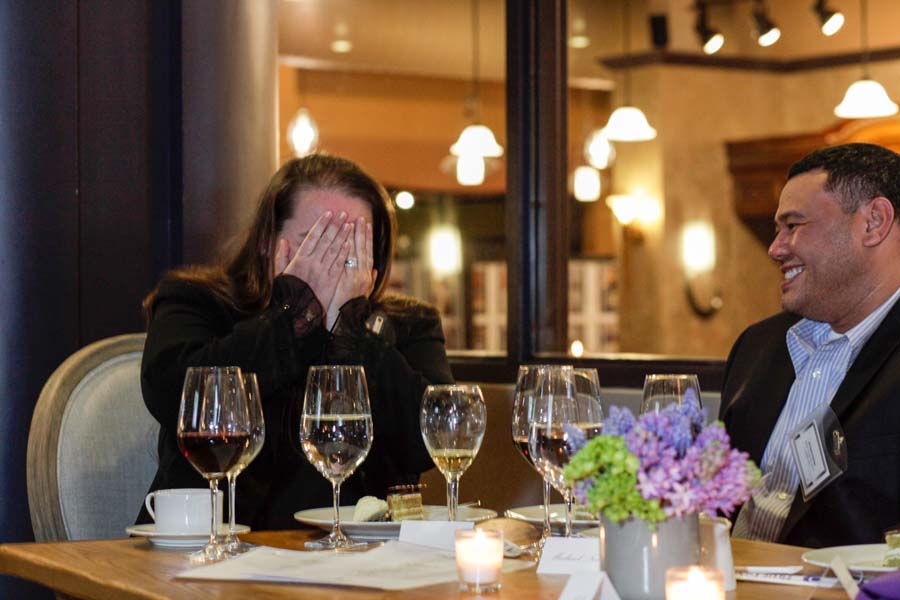 Heather Kahler of Downsview Kitchens of Boston, seated with her husband, is stunned when her name is announced as a New England Regional Winner of the Sub-Zero and Wolf Kitchen Design Contest.
• Architect David Hacin of Hacin + Associates in Boston
• Rosemary Porto of Poggenpohl Boston (below)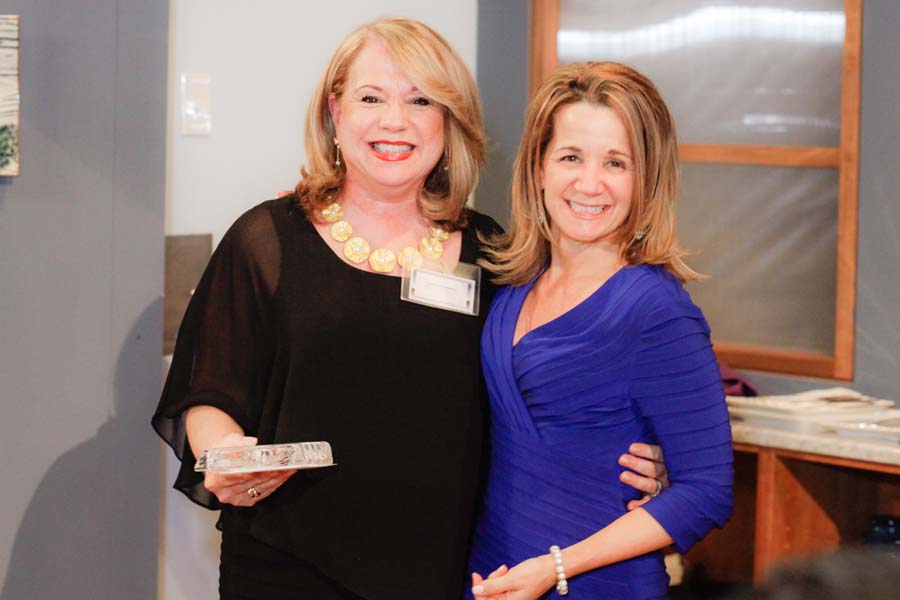 Rosemary Porto of Poggenpohl Boston (left) accepts her award from Clarke's Debra Burke
"There were 1784 entries in this Sub-Zero and Wolf Kitchen Design Contest," said Tanguay, "and just 53 regional winners were chosen. We are incredibly proud to be represented by these three extraordinary New England designers and look forward to bringing a first place national award back to New England."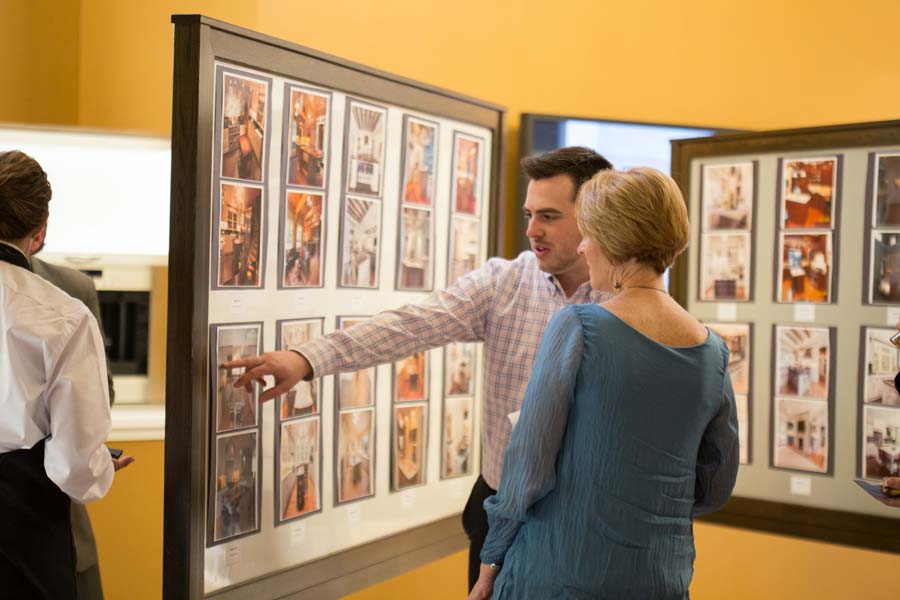 Clarke Marketing Manager Brian Bugler reviews the Sub-Zero and Wolf Kitchen Design Contest projects with a guest
Seven accomplished design professionals, who selected the New England regional winners, are this year's judges for the Sub-Zero and Wolf KDC:
• Jamie Drake, New York designer renowned for his exuberant color sense and countless interiors for notables including Madonna and Michael Bloomberg
• Doug Durbin, a master of kitchen architecture, millwork and cabinetry
• E.J. Meade, founding partner of Arch 11, an architecture and interiors firm designing heirloom quality residences
• Christina Menezes, visionary architect dedicated to cultural details in residential projects who won accolades such as the 2010-2012 Sub-Zero and Wolf KDC People's Choice award.
• Matthew Quinn, Atlanta-based kitchen and bath design expert who has impacted residential, commercial, multi-unit and hospitality projects throughout the world.
• Friedmann Weinhardt, Ontario-based kitchen and bath designer known for his many design contest-winning projects throughout the world and his commitment to using design as a tool for improving his clients' lives.
• Vasi Ypsilantis, known for her New York Showroom The Breakfast Room Ltd. and her first place win in Sub-Zero and Wolf's KDC in 2007, has designed projects including the renovation of The Ronald McDonald House of Long Island and the show house to benefit the American Heart Association at the Sylvia Pratt Estate on Long Island.
For "An Evening to Remember," the Clarke training amphitheater, which also serves as Chef Ming Tsai's production studio for his public television show "Simply Ming," was transformed into a world-class restaurant with fine linens, banquettes and exquisite flowers. Guests were treated to a four-course meal of Sesame Caesar Salad, Sake-Miso Marinated Butterfish, Black Garlic Poached Chicken and Matcha Cake with Sesame Ice Cream and Bittersweet Chocolate.
For more information and photos of the event, visit Clarke's Facebook page. For more information on Clarke designer programs, visit clarkeliving.com or call Joe Tanguay at 800-842-5275.
About Clarke
Clarke is New England's Official Sub-Zero & Wolf Showroom and Test Kitchen, with locations in Milford, MA, South Norwalk, CT and soon to open in Boston Seaport District. Clarke's hallmark is an exclusive Appliance Test Drive, where homeowners can actually cook on Wolf appliances or test ASKO laundry pairs in order to best select the models that will enhance their lives. Visitors can see more models of Sub-Zero and Wolf at Clarke than anywhere else in New England. In addition to marketing Sub-Zero, Wolf and ASKO, Clarke showcases a wide variety of products from other quality brands including Best, Scottsman, Dawn sinks and Waterstone Faucets. Clarke sells its brands through a network of authorized retail dealers in all six New England states. Clarke also offers Clarke Customer Care, a dedicated Sub-Zero and Wolf repair service that has earned them top customer satisfaction ratings in the U.S. For more information, visit clarkeliving.com.