April 21, 2015 | Anonymous
Connie Kolman of Kolman Artisan Glass and Allison Iantosca of F. H. Perry are pleased to announce their partnership for IFDA's New England 'Take A Seat' project. The two talented businesswomen will be working together, combining their design and artistic abilities to create a one-of-a-kind Lucite chair to benefit the Women's Institute of Housing & Economic Development.
'Take A Seat' is an ongoing project of the International Furnishings and Design Association (IFDA). The project promotes talent within the design community and in 2015, IFDA chapters are working together to launch local exhibitions in 8 cities. Proceeds from each auction will benefit local charities and continued IFDA chapter development. In addition to New England the other cities participating this year include, New York, Washington DC, Philadelphia, Minneapolis, Scottsdale, Palm Beach and San Francisco.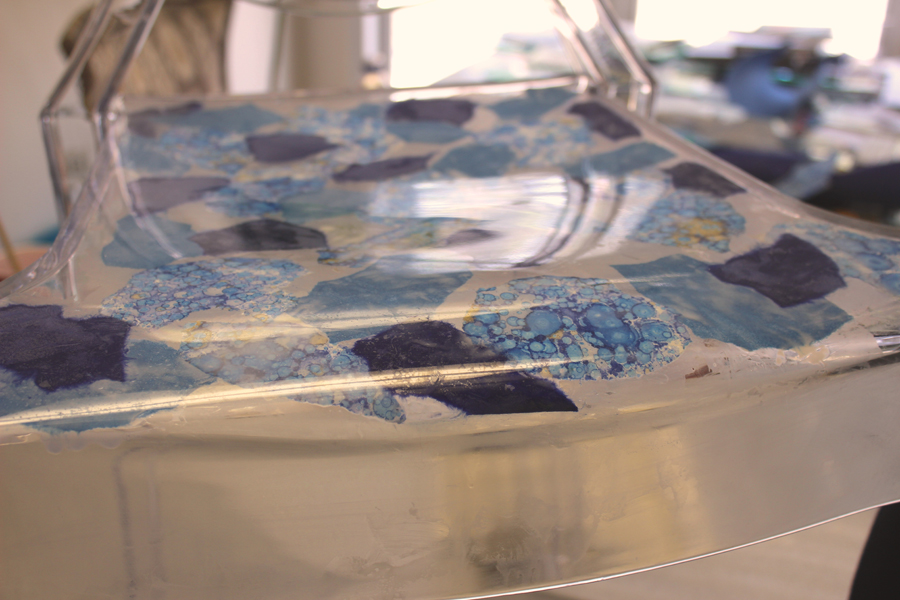 Connie and Allison's final chair will be on display starting on Wednesday, May 13th at the kick off cocktail party and will be featured as part of the traveling exhibit from Wednesday, May 13th until Thursday, June 4th where it will be auctioned off at the annual Gala.
ABOUT KOLMAN ARTISAN GLASS
Kolman Artisan Glass  offers a new and dramatic form of handcrafted one-of-a-kind decorative glass from artist, Connie Kolman. Through the use of exotic papers, paints and resins Ms. Kolman and her artisans transform this centuries old medium into a contemporary and unique finish. Various design applications include wall panels, fine furnishings, and limited edition fine art. Connie's installations can be found in residential, hospitality, corporate, and healthcare settings. Her clients include Benihana (Haru restaurant in Times Square) and the Schraffts building in Charlestown.  You can find her work on display at various art galleries throughout the Greater Boston area. For more information on Kolman Artisan Glass, please visit www.kolmanartisanglass.com.
ABOUT F.H. PERRY BUILDER
In 2008 Allison purchased F.H. Perry Builder with her business partner Bill Cosman and has proudly carried on the tradition of building well and doing the right thing- the philosophy taught to her by her father and F.H. Perry's founder, Finley Perry. Allison and Bill are very proud of the team they have developed to deliver the best in craft and quality with a focus on creating partnerships with clients, trades and designers. F.H. Perry Builder believes in success through strength—strength of character, strength of knowledge, strength of integrity and strength of relationships. For more information on F.H. Perry Builder, please visit www.fhperry.com.