When something seems too good to be true, it typically is too good to be true. However, there is one exception right here in Massachusetts: a visit to Clarke, New England's official Sub-Zero showroom and test kitchen in Milford, MA.
(Image/Homeowners can attend free cooking demonstrations to test drive Sub-Zero and Wolf appliances at Clarke's Official Sub-Zero & Wolf Showroom and Test Kitchen.)
While many think a kitchen design is all about cabinetry, discerning home chefs know a new kitchen starts with appliance research. Is a gas cooktop really better than induction? Will refrigerator drawers work in your layout? Can a convection steam oven replace a microwave? Clarke can answer all of these questions and more.
According to Sandra Lashway, Clarke showroom manager in Milford, spending one to two hours at Clarke can save you months of your own research. She should know; she provides many of the private showroom tours at Clarke to educate homeowners about what is possible in their space and how to best accomplish their cooking goals in a new kitchen design. Are you passionate about pastry baking? Do you expect your children to prepare food? Do you have more than one chef in your home? How many dishwashers do you need? Should you incorporate wine storage into your kitchen or pantry?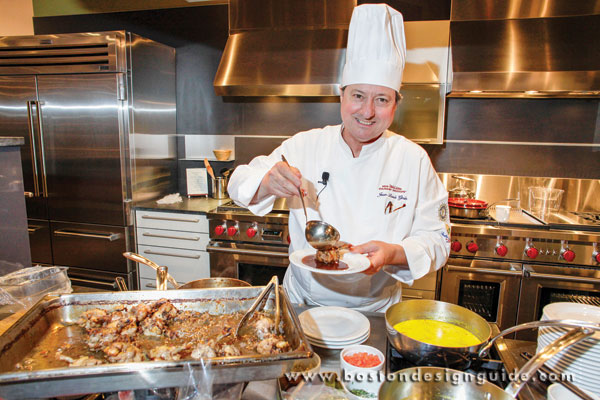 (Image/Showroom guests can also sign up for cooking classes and events like this live demonstration with James Beard Award-winning Chef Jean-Louis Gerin, winner of Chopped 2012 and now Executive Chef at New England Culinary Institute.)
Your lifestyle informs your kitchen design and Clarke is a wonderful place to begin the design process. You will not purchase anything at Clarke. You will find inspiration in 10,000-square-feet of extraordinary kitchens showcasing a variety of styles and finishes. Imagine walking through Houzz.com in real life with an experienced personal guide who can answer your questions on where to purchase that Wolf dual fuel range or who provides that quartz countertop or what kind of hood is recommended to properly ventilate that island cooktop. That's what you can expect when you visit Clarke's showroom and test kitchen.
The "test kitchen" takes the tour to yet another level. Only at Clarke can you actually test drive these high-performance appliances from Sub-Zero, Wolf, ASKO, Best and several other fine brands. You can set up an appointment to cook on an induction cooktop and then compare with the performance of gas (you'll be astounded by the results.) You can experience how a Wolf baking stone turns your kitchen into a bakery oven and how Wolf's new convection steam oven can take a filet mignon from freezer to table in 30 minutes with exceptional results. Whether you bring your own cookware or use pieces available at Clarke, you can see for yourself what will work best in your culinary world.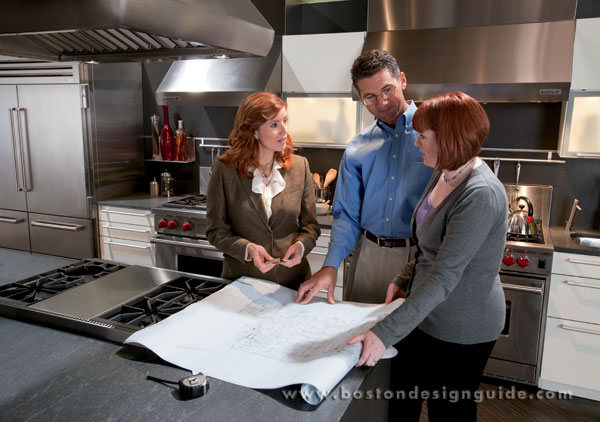 (Image/Clarke consultants will guide a personal showroom tour, talk about your project and make suggestions about what appliances can work with your lifestyle. Most visitors say they learned more in two hours than in months of their own research.)
What's more, if you are still searching for a kitchen designer, Clarke can make recommendations about reputable professionals in your area. And at the end of your tour, you can get the wish list of the appliances that best fit your needs and the names of authorized dealers where you can arrange for best pricing, delivery and installation. 
So, you're saying, "What's the catch?" There truly isn't one. As the exclusive wholesale distributor for Sub-Zero, Wolf, ASKO and several other fine appliance brands, Clarke strives to educate homeowners about these fine appliances and show how they will look and perform in your kitchen.
According to company founder Tom Clarke, "You would never think about purchasing an expensive car without a test drive, so why would you invest thousands in appliances without seeing them and testing them before you buy? That is why we established our showrooms in Massachusetts and Connecticut, and we encourage you to use them."
Clarke is not a retail showroom. Clarke is not a kitchen design firm. Clarke is New England's official Sub-Zero & Wolf showroom and test kitchen.
Click here to check out a video on why you should visit Clarke.
You are welcome to stop by and browse during showroom hours.
Or click here to make an appointment for your showroom tour.